Cathryn McMaster – Paediatric Physiotherapist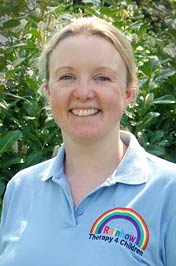 Cathryn qualified as a Physiotherapist in 1998, specialising in Paediatrics in 2000. She subsequently worked within the NHS in a variety of settings including in a Children's Hospital for four years. In 2006 she joined a Community therapy team in Essex as a Highly Specialist Paediatric Physiotherapist and continues to work within this team part time. Cathryn qualified as a Bobath trained therapist in 2011 and has also gone on to do an advanced course in Bobath for infants up to the age of 18 months, as well as other specialist courses, ensuring her practice remains to a very high standard.

Cathryn is experienced in treating children from birth through to 19 who require physiotherapy for a range of conditions including Cerebral Palsy, Chromosomal Disorders, Torticollis and Plagiocephaly, Developmental Coordination Disorder (DCD), Muscular Dystrophy and gross motor skill difficulties. She currently works with babies and young children within their own homes or a children's centre, and later in nurseries and schools with older children if required. She works within mainstream and specialist schools.

After an initial assessment, she provides ongoing treatment programmes for families and schools/nurseries. Cathryn also regularly assess for suitable equipment such as standing frames, sleep systems and equipment for therapy based play.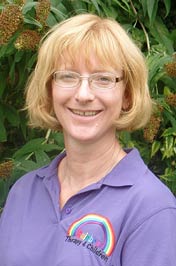 Karen Bowden – Paediatric Occupational Therapist
Karen qualified as an OT in 1994 from the St Andrews School Of Occupational Therapy in Northampton and has worked in the area of Paediatrics since 1996.

She worked for 18 years as a Highly Specialised Therapist, at a NHS Child Development Centre and during this time was involved in treating babies, pre-school and school age children, with complex needs, as part of a multi- disciplinary team, in their own home, or at a school or nursery. She has also worked in a variety of school settings as the on-site Occupational Therapist, these have included schools for children with Physical and Neurological impairment, high functioning Autism, and also severe and complex Learning Difficulties.

Karen now works primarily as an Independent Occupational Therapist and in this role is able to assess and treat children aged from birth to 19 years, with a wide range of conditions including Cerebral Palsy, Muscular Dystrophy, Developmental Delay, Dyspraxia and Developmental Coordination Disorder, Autistic Spectrum Disorder, sensory processing disorders, chromosome disorders and more generalised delay in fine and gross motor skills, using a variety of approaches both individually and in a group setting.

She is experienced at using a variety of standardised assessments to assess a range of skills, including fine and gross motor skills, visual perception, handwriting speed, and pre-school play skills. She is also used to assessing children more informally using developmental play skills observations and has wide and varied experience of specialist sleeping, sitting, personal care and mobility equipment.

Karen has completed numerous post graduate courses in a wide variety of specialist subjects including The Foundation Course of Sensory Integration and is a member of a range of specialist professional bodies.